Hilarie Burton is ready to take you into her rural life.
In her new book The Rural Diaries: Love, Livestock, and Big Life Lessons Down on Mischief Farm, out now, the beloved One Tree Hill star and onetime MTV VJ opens the barn door on the cozy life she and husband Jeffrey Dean Morgan have built for themselves far outside the reaches of Hollywood in upstate New York.
Not only does the tome tell the story of how the two fell in love and formed a family—the couple are proud parents to son Gus and daughter George—but it chronicles their purchase of a working farm in their new home of Rhinebeck, NY—the Mischief Farm of the title. Along the way, Burton shares stories from her storied career, revealing her thoughts on her time on One Tree Hill, her struggles with fertility on the road to welcoming George into the world, and that infamous Ben Affleck moment in depth and in her own words for the first time.
Not only that, but did you know she and Morgan co-own a candy store with none other than Paul Rudd?!
For the 14 biggest revelations from Burton's book, be sure to read on!
Warner Bros.
Leaving Tree Hill

Hilarie Burton may not have left hit series One Tree Hill until after the show's sixth season, in the spring of 2009, but the seeds of her departure were planted much earlier, she reveals. After a dear from from high school, Scott Kirkpatrick, was killed while serving in Iraq in the summer of 2007, her life "took a turn," his death snapping her "priorities and goals back into focus."
"I had spent the previous few years wandering, never really finding my place, but I wanted more," she explains. "I wanted a family. I wanted a home that could be a refuge and a blank canvas that would allow me to daydream, to take risks, to try and fail and try again. I wanted to push myself every day. I wanted to make every moment intentional. Wake up intentionally. Work intentionally. Eat intentionally. And rest intentionally." So she quit, began writing a novel and booked a one-way ticket to Paris, renting an apartment across from the Notre Dame Cathedral.
JB Lacroix/WireImage
Meeting Mr. Morgan

Before she hopped across the pond, though, she flew out to Los Angeles for one last visit, where pals Jensen Ackels and his wife Danneel Ackels (nee Harris, who'd co-starred with Burton on OTH) wanted her to meet someone very badly. Enter Jeffrey Dean Morgan, who'd played Ackels' father on Supernatural and, more famously, Denny Duquette on Grey's Anatomy. Intrigued by him, but sticking to her plans, she headed back to Wilmington, N.C., where OTH filmed, that night to prepare for Paris. Two days later, she received a package containing "guidebooks on Paris, Raymond Carver anthologies, and a beautiful, red, leather- bound journal, which Jeffrey had inscribed: 'Go nuts. Xoxo jdm, Miss your face.'" He also included a note that read, "For someone I just met, I can't stop thinking about you."
A day later, he sprung a ticket to New Mexico for that weekend on her, telling her he wanted to take her on a date. She went and they began planning their lives together. Paris would happen in another life. After less than a month of knowing each other, he said to her, "Do you just want to do this? Do you want to try and have a family?" Within months, she was pregnant with their first child.
Dimitrios Kambouris/WireImage
Christmas Trees and Carson

While explaining her and Morgan's connection over Christmas, Burton recalls a particular moment during her tenure as an MTV VJ on TRL that left her feeling ashamed of her own interests. Two months into her gig, she and host Carson Daly were interviewing Kirsten Dunst and the topic of a million-dollar giveaway by the band Offspring prompted Daly to ask her what she'd do with the money. "Oh, no question: a Christmas tree farm!" she responded, eliciting what she describes as "crickets" from the audience.
After Daly pivoted into commercial, her segment producer scolded her for the honest answer, telling her, "You can't say stuff like that. It's not cool."
"Cool or not," she write, "the thing was, I really did want that Christmas tree farm."
Frazer Harrison/Getty Images
And Baby Makes Three

Having decided that she'd deliver the baby in L.A., where Morgan's home was, she found herself going into labor a few days early, just as he'd returned home from a particularly grueling trip to Texas shadowing a detective. After sipping a glass of red wine in the bathtub as contractions began in the early morning, per the instructions of her midwife, labor quickly progressed and she was rushed to the hospital where Morgan harmonized with her guttural moans and tried to escape for a cigarette break amid the stress (LOL!) before finally catching their son Gus in place of a too-tired mom. 
"He raised our boy up and laid his squirmy little body on my chest. Jeffrey and I were bound forever in that moment," she writes. "All the while this magical little stranger—my Gus—rooted around, found me, and started nursing. Just like that, there was my baby."
Taylor Hill/Getty Images
A Yuletide Proposal

After welcoming Gus and purchasing their first piece of property together—a cabin in Rhinebeck, New York—Morgan took the next step and, on their second Christmas as a family, surprised Burton with a special gift hidden (where else?) in the tree. "I looked, and there was a white envelope that read 'HILARIE,'" she writes. "I opened it up, thinking it was a gift certificate. But inside was a piece of paper that read 'MORGAN.'" When she turned back, he was down on one knee with a ring. 
The proposal came after a tense December where Burton had taken Gus to visit family in North Carolina and Morgan, despite not having any work, opted to stay in L.A. But in that moment, it became clear why. "He explained that he'd stayed back…because he was in the process
of designing and buying my ring. I felt like such an ass for giving him a hard time," Burton writes. "Meanwhile my entire family was very smug that the secret had been kept and I was finally gonna be a bonafide married lady."
Hallmark Channel
Pushed by Paul Rudd

After being introduced to and befriending Paul Rudd and his wife Julie—who also have a home in Rhinebeck—by Morgan's pal Jeremy Sisto, it was actually the Ant-Man actor and his wife who encouraged Burton into a new phase in her career that should've seemed obvious: The Hallmark and Lifetime Christmas movie. While at dinner with the couple, the offer to play Krissy Kringle came through on her email. "The description had every cliché, but it also sounded kind of fun. My friends were babbling on about how wonderful this was. When I told them I couldn't do it, I thought they were going to climb over the table, snatch my phone, and accept the offer for me. Jules said, 'You have to do it!' Paul said, 'I dare you to do it.' After that dinner, I kept thinking, What else am I doing?"
That film, 2012's Naughty or Nice, would become the first of seven total she's filmed for Hallmark or Lifetime as of press time.
Warner Bros.
The Real OTH Villain

While pondering her career after receiving the Naughty or Nice offer, Burton admits she flashed back to her time on One Tree Hill and what disgraced creator Mark Schwann put her and the rest of her female co-stars through. After admitting that landing OTH was like living in her own fairy tale, she admits that it was less Disney and more a dark, Brothers Grimm-sort of fairy tale. 
"In my particular fairy tale there had been a villain who pitted female actors against one another, pushed us to do gratuitous sex scenes that always left me feeling ill and ashamed, told young female actors to stick their chests out, put his hands on all of us, and pushed himself on me, forcing unwanted kisses," she writes.
Frank Micelotta/Getty Images
The Affleck Incident

In the same passage, Burton admits that, heading into OTH, she wasn't entirely naive about the industry. Not after an experience in 2003 on TRL with Ben Affleck where he squeezed her breast on air. "I was nineteen, and I'd taken it on the chin and kept going," she writes. "One of MTV's top brass called me and said, 'You handled that so well.' I didn't realize that I was being groomed—trained to be a good girl and a good sport, someone who would put up with much worse behavior."
Axelle/Bauer-Griffin/FilmMagic
Making Mischief

After deciding to purchase a farm, the next step in their life plan that began all the way back on that first date in New Mexico, their broker found a horse farm that had just gone on the market. The only problem? There were plenty of potential buyers circling the property, including someone else rather famous. "All the local brokers were there too, Burton writes. "Ed Hackett, who runs the farm supply store and moonlights as a broker, was texting his client, Amar'e Stoudemire, who was playing for the Knicks and wanted a weekend retreat." It didn't matter, though. She and Morgan offered full asking price, convinced the selling family they'd lovingly care for the property, and just like that, Mischief Farm was theirs.
Samuel's Sweet Shop/Hudson Valley News Network
Something Sweet

When Ira Gunter, owner of Rhinebeck's beloved candy store Samuel's Sweet Shop, suddenly passed away, Burton and Morgan were bereft, as they loved both the store and its owner dearly. Desperate to keep Samuel's open, they, along with the Rudds and a few other friends, decided to buy the store. "We decided that Andy, Julie, and I would be the managing partners and that we would report back to Phoebe, Paul, and Jeff," she wrote, and though negotiations with Gunter's husband dragged on, the business eventually became theirs. The deal closed in 2014, just in time for—you guessed it—Christmas.
Eric McCandless/Walt Disney Television via Getty Images
Fertility Struggles

While weathering the deteriorating health and eventual loss of Morgan's beloved dog Bisou, the pair were trying to make baby number two. And having little luck at it. The clinical approach to their sex life began to take a toll on the relationship, eventually blowing over into "a hellacious fight" in the fall of 2015 while Morgan was sick and not feeling particularly in the mood. "There was no romance; the whole thing had become a science experiment. Jeff wanted me to wine and dine him. He wanted to go on a date. He is a narrative-oriented person, and the narrative of peeing on a stick and rushing to have sex was not attractive to him," Burton explains. "He wanted another beautiful story, like how we had lucked into Gus's pregnancy. He'd feel used and wouldn't respond to me, and then I'd feel hurt and rejected. It was a vicious, unhappy cycle. Every single month that went by felt like a tiny funeral."
They began to consider fertility treatments, but just after Thanksgiving, she woke up feeling hormones surging through her body. "The double stripe showed up on the pregnancy test almost as soon as I'd peed on it," she writes. She surprised Morgan and Gus with the good news at Christmas.
Warner Bros.
Unbearable Loss

Unfortunately, the joy of the pregnancy would be short-lived. In February, during a visit to the doctor, she learns the baby is no longer alive. "A few days earlier I'd been working in the old farmhouse, not doing anything strenuous, just sifting through boxes, when a sharp pain pierced my gut," Burton recalls. "That's odd, I thought. It was unlike anything I'd felt before. But then again, pregnancy is weird—full of aches and pains and strange bodily reactions. Now in the waiting room all I could think was, I did this. I should have sat still. I killed my baby." 
It's recommended that, for the future of her fertility, she have what's called a dilation and curettage (or D&C for short) rather than let the pregnancy pass naturally. "When you have a miscarriage, there's no funeral. There's no rite for your grief," she writes. "You mourn alone, even when entirely surrounded by people."
Sadly, it's a situation she is forced to relive two more times before eventually welcoming daughter George in February 2018.
Gregg DeGuire/WireImage
Wedding Bell Bust

When Burton learned she was pregnant with rainbow baby George, she and Morgan were well on their way to a planned wedding in St. Marteen to be held in January 2018, a month before her due date. With the deposit paid and all their friends booked for villas, the Zika virus hit the island and gripped it hard. (Zika is especially dangerous for pregnant women.) They knew they had to cancel, forcing everyone out of a good chunk of money in the process. "I felt sick about it, but I had to send an email to all our friends," she writes. "'There's good news and bad news. Good news is we're having a girl! Bad news is St. Maarten has Zika. We are so grateful that every single one of you was willing to celebrate our wedding with us. Jeff and I will absolutely cover any costs from the resort that won't be reimbursed.' I groveled. I felt so horrible."
While Morgan tried to come up with a way to still pull the event off, including crop dusting the entire island to kill the mosquitoes and dressing his bride in a net, Burton knew it was best to wait. "Don't get me wrong. I wanted to get married, and I was frustrated that we couldn't get our money back," she explains. "But I would've paid hundreds of thousands of dollars for a baby. Millions. This baby was priceless. We agreed to go to the island and get married after our baby was born." Sadly, Hurricane Irma would make that impossible, but they later tied the knot in a private ceremony in fall of 2019.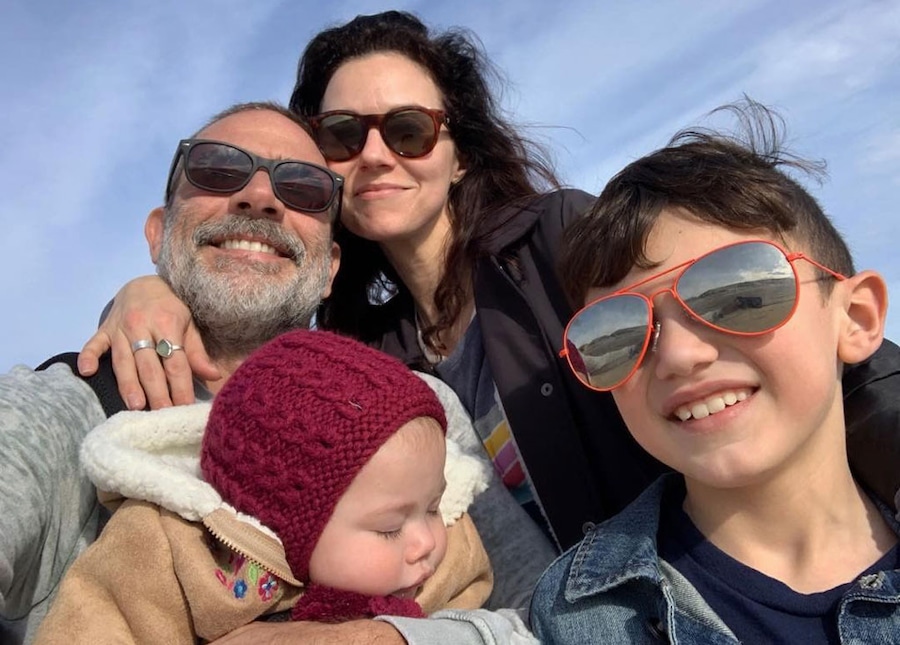 Instagram
A Reason to Act

When Affleck groping her became part of the #MeToo conversation in the fall of 2017, Burton and her OTH co-star Sophia Bush wondered when the great cultural reckoning would come for their former villain, Schwann. As stories began to surface and the women who worked on the show both in front of the camera and behind it joined forces, it became clear to Burton that nothing would happen to him unless intimate details were shared. So, she went first and sat down with Variety for a five-hour interview, the fear of retribution or loss of career suddenly washed away. 
"I looked around at my life and thought, If I never work on another show or film, I'll be okay," she recalls. "My daughter had steeled me. I was a farmer. A shop owner. A soccer mom. A board member at Astor. I was finally a person that I sorta kinda liked, and all the creeps out there could go straight to hell."
The Rural Diaries: Love, Livestock, and Big Life Lessons Down on Mischief Farm is available now.