Get all the latest news on coronavirus and more delivered daily to your inbox.  Sign up here. 
Jimmy Kimmel began his late night talk show on Friday by denouncing what he says is a "blatant double standard" in America as rioters continue to besiege major cities across the country in response to George Floyd's death.
Filmed from his home in Los Angeles, Kimmel began his monologue by stating there is an unfortunate "loop" taking place in America that involves citizens responding to horrific acts of violence with equally "senseless" acts.
"It goes from, 'It isn't right to kill an unarmed man,' to, 'Well, it also isn't right to loot and set fires and attack the police,' to 'The police are attacking us and killing us over and over and nothing changes,' to 'Well, that needs to be settled by the law,' to 'The office of the law just killed another unarmed man' and so on," Kimmel said, citing race riots that continue to pop up across the country, resulting in fires, explosions, vandalism and other crimes.
OBAMA SPEAKS OUT ON GEORGE FLOYD'S DEATH: 'THIS SHOULDN'T BE NORMAL IN 2020 AMERICA'
He reminded his viewers of the country's Pledge of Allegiance, which he says is not being demonstrated.
"We have to work on this problem we have – this blatant, double standard – because when you stand in front of the flag you put your hand on your heart, you pledge allegiance with liberty and justice for all. We don't have that 'for all,' Kimmell said. "I mean, I have it, a lot of you have it, but it's not 'for all.'"
The host then kept in line with his nearly nightly bashing of President Donald Trump, this time decrying the "disgusting excuse for a president" for using violent rhetoric on Twitter in response to the Minneapolis, Minn., riots.
GEORGE FLOYD CASE: FAMILY, FRIENDS DESCRIBE HIM AS 'GENTLE GIANT' LOOKING FOR A NEW LIFE
On Thursday, Trump tweeted: "I can't stand back & watch this happen to a great American City, Minneapolis. A total lack of leadership. Either the very weak Radical Left Mayor, Jacob Frey, get his act together and bring the City under control, or I will send in the National Guard & get the job done right. … These THUGS are dishonoring the memory of George Floyd, and I won't let that happen. Just spoke to Governor Tim Walz and told him that the Military is with him all the way. Any difficulty and we will assume control but, when the looting starts, the shooting starts. Thank you!"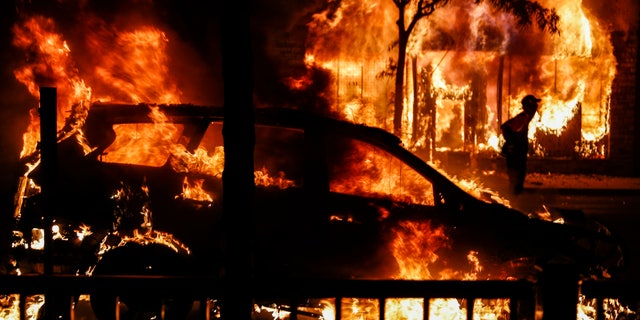 A vehicle burns as a protester runs down Chicago Avenue, Saturday, May 30, 2020, in St. Paul, Minn. Protests continued following the death of George Floyd, who died after being restrained by Minneapolis police officers on Memorial Day. 
(AP)
Kimmel did admit, however, the issues currently plaguing the country cannot be fixed by the government and the government alone. "It's on us," he said.
"I especially want to pose this question to older people who've seen this before in this country, who've lived this nightmare of race riots already in the '60s and '70s, '80s, now. Is this who you want leading us? A  president who clearly and intentionally inflames violence in the middle of a riot to show how tough he is? A commander in chief who threatens to put members of our military, our National Guardsmen and women in the position of having to shoot a fellow Americans on-site? I don't care what you are – a right, left, Republican, Democrat – I can't imagine that there are many of us who want that. Enough is enough. We've got to vote this guy out already."
1,700 NATIONAL GUARDSMEN EXPECTED IN MINNEAPOLIS TONIGHT; MILITARY POLICE ON ALERT AFTER RIOTS RAGE ACROSS US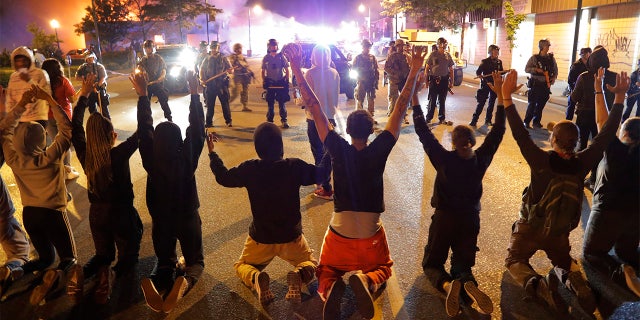 Demonstrators kneel before police Saturday, May 30, 2020, in Minneapolis. Protests continued following the death of George Floyd, who died after being restrained by Minneapolis police officers on Memorial Day. 
(AP)
Kimmel concluded the first segment of his show with a powerful video from the Tyler Merritt Project, where a black man describes himself not by the color of his skin, but by his likes and dislikes, his background, his daily activities and hobbies.
Floyd was a 46-year-old black man who died in police custody on Monday after a white Minneapolis police officer responding to a call kept kneeling on his neck. In a now-viral video, Floyd can be heard telling the cop, "I can't breathe."
The four officers involved in the incident have been fired and Derek Chauvin, the officer who had his knee on Floyd's neck, was taken into custody on Friday and charged with third-degree murder and manslaughter.
CLICK HERE TO GET THE FOX NEWS APP
Floyd's death continues to ignite violent protests all over the country, including the Minneapolis Police Department's Third Precinct being set ablaze by rioters on Thursday.