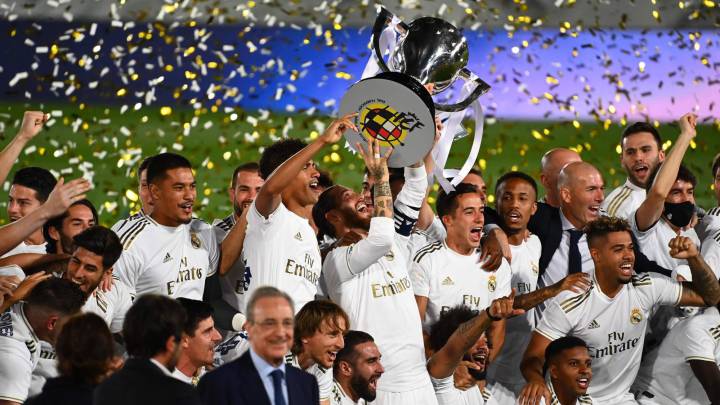 Real Madrid vs Villarreal: as it happened!
Real Madrid win LaLiga with battling victory over Villarreal
Real Madrid sealed their 34th LaLiga title on Thursday with a 2-1 win over Villarreal at a sweltering Alfredo di Stefano in the suburbs of Madrid. Zidane's side have been irresistibly unspectacular since the return of football and it was in that same style that they won their 10th game in a row and marched to another trophy under their French manager. Zidane, often almost accused of having some secret formula for success that he refuses to divulge, has done it again.
Zidane focused on LaLiga title
Zidane refused to let his mind drift to the possible celebrations and didn't want to entertain the importance of the game in the grander scheme of things before kick-off on Thursday night. "I don't have to think about if we draw tomorrow, or on Sunday… Tomorrow, we will be going all out to win the game, as we do in every game," he said in the press conference before the Villarreal game. There had to be part of him that sensed something inevitable about a title win given their recent run but he wasn't about to show that in public.
Zidane is a serial winner and this is his 11th title as the Real Madrid boss in just over four years. The reason he left in 2018 was in part due to Madrid's failure to win the league that year and the manner in which they lost in the Copa del Rey that year, bowing out to Leganés. Losing for Zidane is never acceptable even when it is accompanied by winning a Champions League trophy the same year. Zidane has always maintained that the league is the hardest of all trophies to win: "It's more difficult to win the league than it is to win the Champions League," he said in 2018 after losing the league to Barcelona. "I have always said it and I won't change. I have said it all my life."
LaLiga, interrupted
There will never be a stranger league season than this one. There might never be a more satisfying league title win either though. Madrid had 11 games left when the coronavirus brought football around Europe to an end. They had just been beaten by Real Betis and looked like a team lacking plenty. As the weeks rolled by and football remained on hold, it became clear that Javier Tebas was planning on a LaLiga return. Meanwhile, Madrid were planning their own comeback from the confines of their homes and felt that if they took care of their business in the remaining games, Barcelona would stumble.
That's exactly how things transpired with Barcelona drawing with Sevilla and Atlético Madrid to hand Madrid the lead in LaLiga. Madrid never looked back. Thursday's victory was their 10th in a row.
Benzema on fire again
Karim Benzema, Real Madrid's talisman and top scorer gave Madrid the lead with Casemiro robbing a risky Sofian Chakla pass, Modric pouncing on the loose ball like only Modric pounces on loose balls, and Benzema finished the way Benzema has been finishing all year. It was his 19th goal and 6th since the return of football. Madrid were on their way.
They wrapped it up with more of the usual suspects involved. Ramos stole in front of Gerard Moreno and raced forward before winning a penalty. Benzema slotted it home after a retake when a number of players encroached on the first effort, which saw Ramos cheekily pass to Benzema.
Madrid didn't get to bask in their two-goal lead for long when Vicente Iborra headed home with 10 to play but as hard as Villarreal tried, they couldn't find the leveller. They came close again with Courtois making a couple of important interventions. Asensio had a goal ruled out late but it hardly matter as Barcelona had lost at Camp Nou and Madrid were the champions regardless of what Villarreal did.
Real Madrid celebrate their 34th Liga title
Real Madrid's very basic strategy of winning with functional football complete with a robust defence while waiting for Barcelona to fall over themselves worked. Zidane's secret formula has landed them another trophy and while Ramos and co. won't be going to Cibeles to celebrate, the victory will feel all the sweeter given what they have battled through to come back after three months, go on a winning streak like they have and replace their eternal rivals at the summit of LaLiga when it mattered most.
Burger & Chips slap-up for Toni Kross after LaLiga win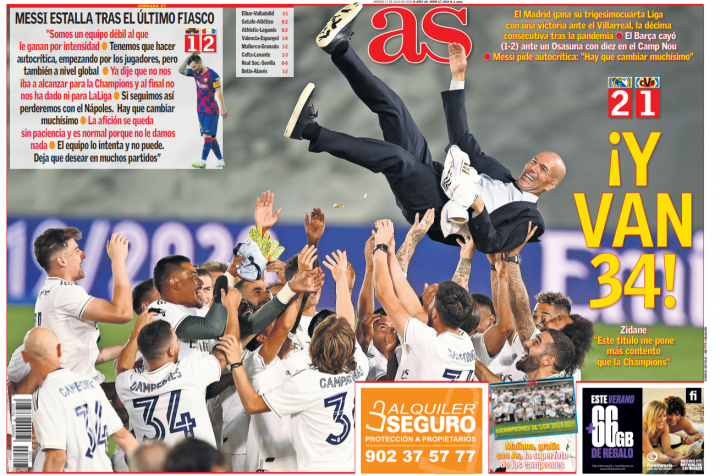 Cover of AS for Friday 17/07 as Real Madrid bag league title #34
Madrid council workers dress Cibeles in traditional title winning flag
Not an easy tweet for the FC Barcelona Community Manager to compose ….
How the league table looks after 37 rounds of matches
Courtois considers title a result of determination 
Real Madrid fans at Valdebebas
There are tens of fans gathered at the entrance to the Real Madrid facilities where the Estadio Di Stéfano is sited, waiting to see the LaLiga winners, despite exhortations from the club and authorities not to do so to avoid any Covid-19 risks. Most the fans do seem to be wearing masks.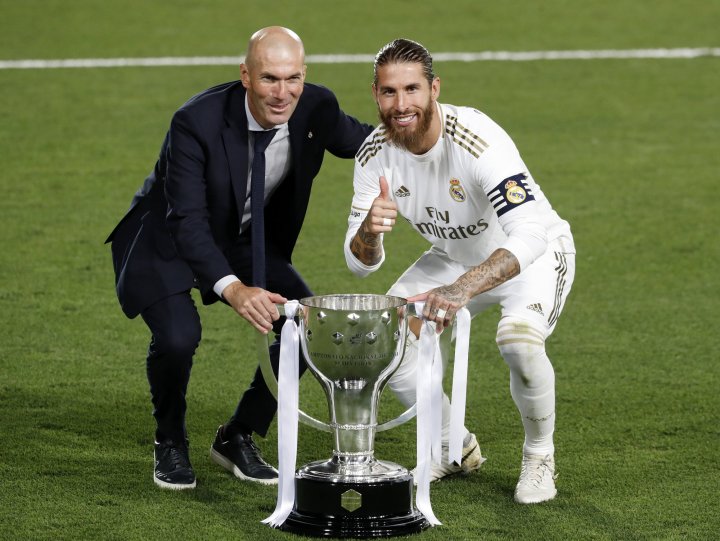 Zidane and Ramos with the trophy
Cibeles, empty
Tweet from Madrid mayor José Luis Martínez-Almeida (who's an Atleti fan) showing Cibeles, where Real Madrid fans traditionally celebrate their tropies, completely empty. The city council pleaded with Real Madrid fans to stay at home and celebrate there if they won the title. So far they are heeding the advice. 
Real Madrid president Florentino Pérez
"We're delighted. All the fans, the coaching staff, the players…The lockdown was very important for the players. They trained well, and had the mentality and motivation to come back and win this title. It's not been easy, but we've all seen the effort they made. This special Liga will go down in Madrid's history"
Pérez also said he was certain Ramos would finish his career at Real Madrid.
Zidane
"The feeling is amazing because at the end of the day it's the players who have achieved this… 10 wins, so impressive. It's a team thing, we fought to the end and we're delighted. I've no words, I'm so happy.
"It's more difficult to win the league than it is to win the Champions League. I have always said it and I won't change. I have said it all my life. The Champions [League] is the Champions [League] but this is something else, this is 38 games… this is the dog's bollocks."
No fans, but no less sweet…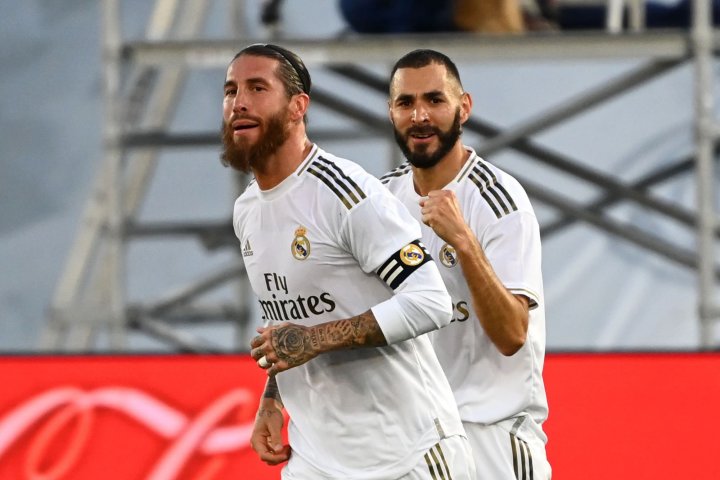 Ramos delighted
Ramos says the LaLiga title is the reward for the effort the whole Real Madrid side put in, particularly the hard work during lockdown.
Asked how long he'll stay with Real Madrid, Ramos says: "I'll be here as many years as the President wants me to be."
Real Madrid celebrating at the Estadio Alfredo di Stéfano… and on all major social media sites.
Zidane's record is not bad…
GAME OVER! Madrid are LaLiga champions.
No, wait, it was ruled out for a handball from Benzema. Incredible stuff. Still a chance for Villarreal but the Barcelona still trail.
GOAL! Madrid wrap it up. Vinicius with a lovely run down the left, cuts inside and Asensio finishes. 
Sorry to tell you this folks but the result of this one doesn't matter. Barcelona are losing. They've essentially handed Madrid the league.
So, so close. Villarreal can't score it. Ontiveros with a lovely cross, Courtois palms it out to the side and they nearly score. Madrid under serious pressure.
It's Ontiveros who shoots and Courtois punches it out of hs vicinity.
Casemiro with a handball outside the box. It's a bit far for a strike maybe but Cazorla might be having a think about it.
Six minutes of added time.
Oh, lovely cross from Cazorla. After a quick game of pinball, Quintilla drives the ball over the bar.
Ball whipped in. and Courtois comes to claim. Varane taking no chances and he heads out for a corner. 
 Carvajal off for Lucas Vazquez.
Vicente Iborra heads home! 2-1. A good end in store in this one.
Madrid enjoying themselves now. Kroos hits the crossbar. He rattled it, to be fair! Cazorla with a wayward pass.
Villarreal players encroaching too, it looks like. Strange one and not sure I've seen anything like that before.
Water break. I think we all need to calm down after that. A crazy 2 minutes! 
Another penalty for Madrid after the mess that was the first one. Benzema takes it and scores. 2-0. Barcelona are drawing 1-1 and now the league title is surely going to Madrid.
Ramos to Benzema from the spot. Benzema scores but he was inside the box. No doubt about it.
After winning the ball back from Moreno, he races forward and gets caught by Chakla. 
Ramos races forward and wins a penalty. 
Ontiveros cuts inside and shoots on his left. Courtois gets down to save it. He seems to have recovered. 
Areola told to sit back down. Courtois is okay. Really nasty one for Courtois but he seems okay. 
Unclear if he can continue but Courtois took a serious knee to the head and Areola is out to warm up. Might be smart thing to do. 
Courtois takes a really bad knock to the head now as he slides in on Quintilla. 
Vinicius on for Hazard. Asensio on for Rodrygo.
Modric gets himself booked for a trip on Ontiveros. Nice break from Villarreal and the Croatian slides in catching the attacker. 
Rodrygo gets turns upside down as he skips by a challenge. Free whipped in from the right and it's cleared. Disappointing so far from Villarreal as Madrid do what they have been doing best recently, nullifying the opponent and doing just enough to remain ahead. 
Madrid in control to start this one again. Carvajal with a lovely move down the right and cuts back and rifles one at Asenjo. Follow up lands to Hazard but he is swallowed up before he can even control it.
Hazard tries to make something happen down the left but can't. He looks really off the pace at the moment and, turning 30 next season, I wonder if Madrid are wondering what version of Hazard they bought?
Chukwueze and Peña off for Ontiveros and Bruno Soriano.
We are back underway for the second half. 
Another solid 45 from Madrid and they are 45 minutes from a league title. Barcelona losing also gives them a massive cushion. HALF-TIME!
Ball is sent in and it's out for a goal-kick. Chakla closest to it and he wants a penalty. What for? Well, that much is unclear but he gestures to the referee. The referee responds by pointing for a goal-kick.
Ramos absolutely batters Chukwueze in the back with a shoulder. Free for Villarreal as they try to conjure up at least one chance before the break.
Three minutes of added time.
Rodrygo looking dangerous again and he sends one in from the right and has Villarreal panicking. Cleared for a corner.
Another positive move by Villarreal but ends with poor execution and anticipation out on the left. Carvajal sees one out for a goal-kick. They have definitely improved but Madrid have this one right where they want it.
Chuckwueze comes to life. He races forward and feeds Moreno but Carvajal gets a touch. Then he gets it back from Moreno after Villarreal win it back. He strikes and it's blocked again; corner.
Dangerous attack for Villarreal ends with a miscommunication between Moreno and Chuckwueze.
Carvajal feeds Rodrygo and he chips one into the box. Chakla heads up into the air and out for a corner. Slightly more time than he imagined but it's out for a corner nonetheless.
Quintilla looks for Ruben Pena in around the back with a bending ball around Carvajal. Courtois comes out and grabs it though. Nice idea but way to much mustard on that one for Ruben Pena.
Madrid have backed off slightly now after the goal. Villarreal looking for an equaliser. Quiet night so far for Courtois though. 
Water break at the Alfredo di Stefano.
GOAL! GOAL! GOAL! Benzema scores after Sofian Chakla gets his midfielder in trouble, Casemiro gets a touch on the pass and Modric picks out the French striker. 1-0 to Real Madrid and the LaLiga title is all theirs….
…if it stays like this.
Carvajal tries to create something down the right but it's all too congested. It gets sent all the way back to Varane and he looks for a pass way over the top but it's out for a goal-kick.
A rare Villarreal attack ends when Chuckwueze runs into a sea of white jerseys. Madrid counter and Benzema sees his tame effort blocked by a defender's feet.
Carvajal crosses one in but there are a few white shirts just on the wrong side of the yellow line.
Kroos clips one out to Mendy but he can't control it and it's out for a throw. Madrid are controlling this one now and Villarreal are really struggling to get anything going.
Sofian Chakla catches Hazard and throws him to the ground. Yellow card for the defender after his second one on the Belgian.
Oh, Modric goes close! Lovely spin by Benzema and the little Croatian goes close, forcing a good stop from Asenjo. Corner for Madrid.
Benzema tries his look from way out on the left. Casemiro found him with a clipped past and the shot was a 'complicated' one as the commentator says. Tight angle, bad foot, wide.
Benzema with a little poked pass to Rodrygo, who is offside, but tried to make ground coming in from the right of the penalty area. 
Carvajal with a ball through the middle to Hazard and he gets caught and Madrid have a free. Madrid really taking control of this one now. 
Rodrygo skips by a challenge and himself, Modric and Carvajal combine to make a little passing triangle before it is sent out to the left. Madrid building now. Very even start to this one.
Chukwueze catches a shoulder to the chest by Casemiro and Ramos kicks the ball out of play. He looks to be okay though.
So cheeky, so close. Ramos launches one down to Carvajal and he takes it down on his right. He tries to just lob it over Asenjo but doesn't out enough on it. Lovely pass, lovely move. 
Hazard tries to chase a long, raking pass out to the right but he can't stretch his leg out long enough to get anything on it. 
First attack for Villarreal. Crossed in from the right and headed out by Varane. 
We are underway! Zidane would not let his mind drift to the possibility of winning this game and the title. He wanted his players tuned in. They've been pretty tuned in for the last four weeks to let us see if they can do it for one more ninety minutes. Here we go. 
Madrid emerge out onto the field. Villarreal follow them shortly afterwards…
Right, so the subs are in place and the teams are in the tunnel. Well, Madrid are anyway. They can't be in the tunnel together.
This was our front page this morning. Ramos has been an absolute beast since the return with five goals in eight games.
Madrid taking the short trip from the Valdebebas 'hotel' to the training ground.
There will likely be a lot of changes at Madrid in the summer. They are already planning the sale of Jesus Vallejo but bigger names than that could be, and likely will be, on the way out. James Rodriguez 'won't have any shortage of offers' in the summer according to his step-father, Juan Carlos Restrepo. 
Meanwhile, the Bale saga rumbles on. Zidane defended him recently and said 'he is one of us' but it is looking increasingly likely that the Welsh man isn't long for Real Madrid.
The very man who changed the model, Rubiales, will not be on hand to give Ramos the trophy. He changed it to the English and German model when previously, the team who won the title were given it on the first day of the following season.
You thought we would be focusing on just Real Madrid tonight. Not a chance! We have you covered as the knowledgable, witty and observant Paul guides you through Barcelona's game against Osasuna as they try to at least not hand the title to Madrid.
The other big one in LaLiga tonight….
Villarreal XI: Asenjo, Gaspar, Pau Torres, Gerard Moreno, Chukwueze, Morlanes, Quintilla, Anguissa, Ruben Peña, Sofian Chakla, Moi Gomez.
Real Madrid XI: Courtois, Carvajal, Ramos, Varane, Mendy, Kroos, Casemiro, Modric, Hazard, Benzema, Rodrygo.
A look at Santi Cazorla's fine form this season. Madrid couldn't have picked a more awkward opponent for themselves than Villarreal. 
The Valencia-based side have taken points from Madrid in four of their last five games with three draws and one win! 
One of the reasons for Madrid's incredible run since the return of the break is their defense. Ferland Mendy, who scored his first goal against Granada earlier in the week, has been an incredible find.
Hello and welcome to our live coverage of Real Madrid vs Villarreal in LaLiga
Real Madrid could win LaLiga with a game to spare tonight if they win or Barcelona fail to win. Zidane, however, doesn't want to talk about anything other than the game.
Setién remains defiant even though Barcelona have let the league title slip through their hands with draws against Sevilla and Atletico Madrid.
.